So that everything grows and flourishes.
The daily work in plant nurseries, greenhouses or tree nurseries is substantially alleviated by the Weidemann machines. The efficient use of space with tight walkways therefore presents a particular challenge. Many operations, which would traditionally be performed by hand or with a wheelbarrow and/or dollies, can be performed using our compact machines.
Making the right decisions when purchasing a new working machine - this is what it comes down to. Weidemann machines have been successfully used as a multi-tool for decades in plant nurseries and greenhouses. In doing so, small machine dimensions and small turning radii are of great importance.
Optimal work ergonomics.
In the development of the Weidemann machines, the work ergonomics play a crucial role – spacious overhead guards and/or cabins with optimal all-round visibility, as well operating elements that are easily accessible and as self-explanatory as possible to the changing operators. The working climate within our cabins is excellent thanks to an effective working heating and ventilation system. We recommend the air-conditioning system for particularly warm ambient temperatures.
Tasks and applications in the plant nursery
Discover the options from some examples.
Cultivating seeds

Whether it is planting or harvesting - you can complete tasks with excellence in any season with the mechanical support of a Weidemann. A large selection of appropriate attachments, like pallet forks, buckets, ground planers, or transport containers, is available to you.

Moving plant pots

Traditional spring and fall applications are perfectly supported with the right Weidemann machine with a good view of the load and our large selection of pallet forks. It is even possible to hydraulically adjust the prongs. A special pot grip is likewise part of our attachment program.

Attachment operation

Weidemann machine can tow a trailer with the optional trailer coupling (different systems are available depending on the model). This extends the machine's spectrum of application and offers more flexibility, as no additional towing vehicle is required.
Processing green waste

The waste from shrubs and trees can be safely processed and unloaded without any residue when using the crate-rotating unit with the right waste container. With the small, compact Weidemann machines, you can open up any area that can only be reached via narrow trails.

Mobile works

Simply drive to your customer's: The smaller series can be transported on a trailer so that you can effortlessly pursue tasks at different application sites, for instance in car parks and garden, cemeteries or within inner-cities.

Cleaning

Weidemann machines can be equipped with diverse sweeping machines, high-pressure cleaners, and brooms to clear dirt of any kind. Weeds can be mechanically removed with the weed broom. This is how you always keep your site and your working environment clean during application on site.
Working emission-free

Here are our electrically-driven machines in their specialist area: The battery-powered machines banish exhaust gases and noise from the daily work routine. A real benefit, especially when working in the greenhouse.

Filling plant containers

There are different buckets and transportation attachments available for filling plant containers - and all this is attuned to your machine's size. This is how the ground works are completed quickly and efficiently.

Transport works

All things that necessitate transportation by a nursery operation, can be moved using a Weidemann machine. With the right attachments, like pallet forks, diverse buckets and grapples, you can securely hold and lift goods for transportation.
Grounds maintenance

You can also use a Weidemann machine to maintain hedges, shrubs and trees: available for this are the double-knife mower (undergrowth), the hedge trimmer (branch thickness up to 25 mm), or the pruning saw (40 to 100 mm branch thickness).

Green space maintenance

A constantly recurring task is the maintenance of green spaces, which necessitate regular mowing. Here, it is recommended that a Weidemann machine is equipped with a rotary mower, mulcher, or a flail mower with a collecting tray.

Winter services

Depending on the model, Weidemann machines can be equipped with different snow blades, rear spreaders, and snow blowers. Thus you will receive valuable support during your winter service in clearing the site of snow and ice.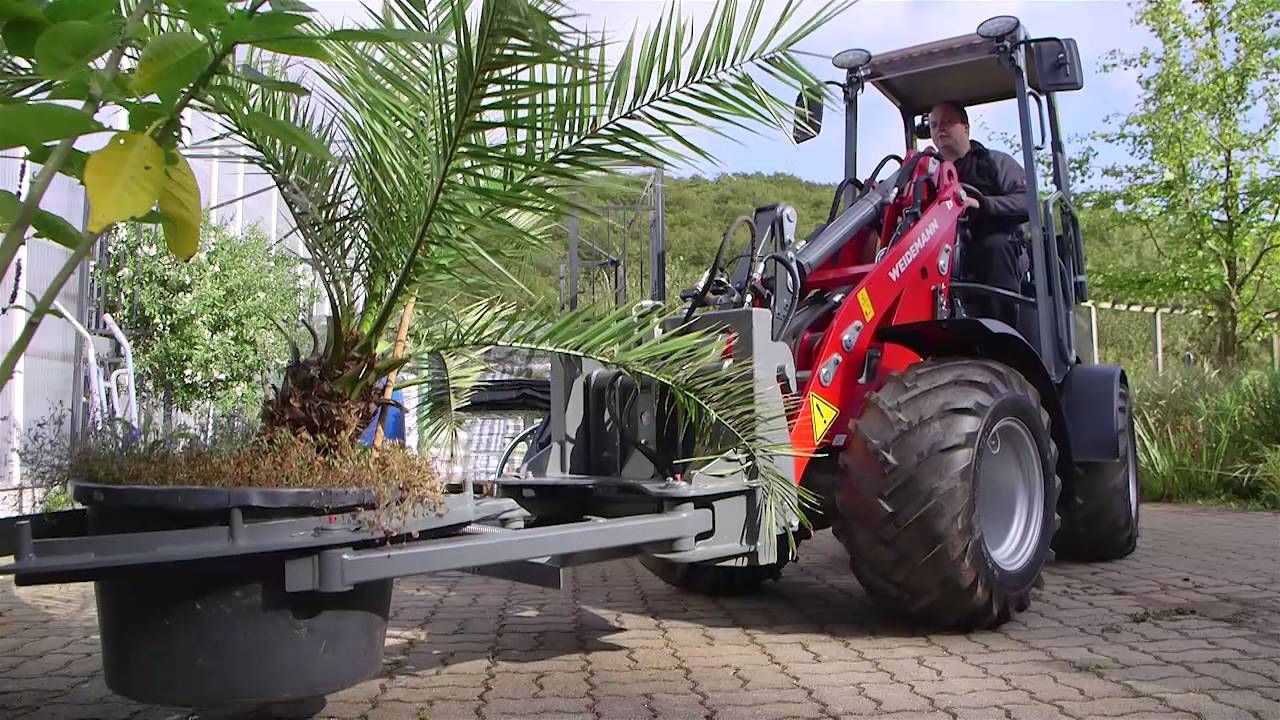 Plant nursery application reports
Our customers in the plant nursery operations and tree nurseries report which Weidemann machines they use, and which activities they complete with the machines.
Have we sparked an interest?
Would you like to find out more about one specific Weidemann machine, attachments, finance offers, or customer services and spare parts?
Then contact us!